K-12 School Trips
GET INTO THE GREAT WIDE OPEN
A remarkable experience for youth and teachers
FALL 2023 through SPRING 2024
Please contact Della
Field Trips or Multi-day Adventures
With plenty of options for food and activities, students, volunteers and teachers are bound to have a great time playing together during school trips at RockRidge Canyon.
Plus, we have the accommodations and modern facilities teachers, parents and volunteers will love. You'll rest easy, knowing you can leave those bulky pillows and sleeping bags at home.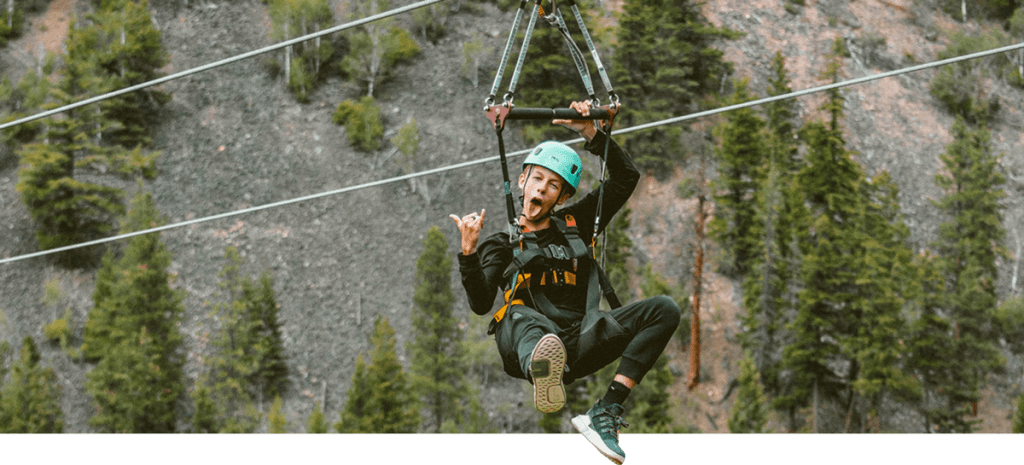 SO MUCH TO DO AND SEE
OUTSIDE
RockRidge Canyon was designed to delight and challenge youth, but adults and kids of all ages will appreciate the beauty, variety, quality and commitment to excellence even as you arrive on site.
While some activities have been limited by governmental directives, there is still lots to do in our 1,500 acre playground! Choose as much or as little, as suites your class.
Hikes
NEW – Nature Trail – Learn about the animals who live around RockRidge Canyon and the Similkameen Valley. Illustrated kiosks with AM/PM audio tours. 1 hour, easy walking, guided hike.
Pinnacle – We'll take your class on a a guided hike to the top of the infamous mountain for spectacular views of the valley. Intermediate hike (1.5 hr round trip). Requires closed toed footwear, ie runners or hiking boots. Grade 6 to 12.
Pool – Massive 25 metre heated outdoor pool, with diving boards and changing rooms. Life guard(s) provided.
Zip Line – Feel the thrill of soaring across the lake! Open to all ages, 60 lbs minimum (you have to get across) to 275 lbs (you have to stop). Requires closed toed footwear. Pre-sign up required. Fun fact: Our oldest zip liner was 91. She loved it.
Challenge Ropes Course and Tower of Terror – You CAN do this! Build confidence as you climb and balance. Height: 60″ min. Weight: 60 lbs – 275 lbs max. Pre-sign up required.
Archery – Meet your instructor at the basketball court then head to the range. Quality bows available for various strength levels.
Beach Hut
Mountain Bikes
Kayaks
Canoes
Paddle Boards
Beach Volleyball
Beach – Great for sandcastles.
Mountain Bikes – You are welcome to explore and ride all lower trails. Be respectful of hikers. The Pinnacle trail is for hikers only. Access advanced Mountain Bike trails via Canoe Cove trail.
Lake – Enjoy Kayaking, paddle boarding and canoeing in the sheltered waters of Canoe Cove. Swimming closed at this time.
Lake House – Sit back, take in the view or read a book in the shade.
Party Barge lake tours – Explore the outer reaches of the lake as eagles and osprey soar above. Maybe you'll see them catching fish! Approximately 1 hr tour to the dam and back. Driver/host and life jackets included.
Sports Courts – Ball Hockey Rink, Playing Field, Beach Volleyball Courts and all-weather Basketball Court.
Sports Field – Wide games, soccer and more. This lakeside groomed field is open for fun.
Campfires – On Main Street.
INSIDE
Restrooms – Located in the upper Pinnacle Dining Room and Pool Shack (when the pool is open).
Games and meeting rooms – Currently closed for renovations.
Scoops Snack Shop  – On Main Street. Snacks, ice cream, smoothies and cold drinks. Open upon request.
CHOOSE YOUR OWN ADVENTURE
Bring your class to RockRidge Canyon and we'll take care of the fun and all the details, allowing you to stretch out and enjoy your day(s) together. We've put together a couple of packages of popular class activities but you can work with our team to build your own adventure.
What does a class Fun Day at RockRidge Canyon cost?
Not every class or budget is the same, and we get that. We're parents too! We want to see every student have the opportunity to experience the joy of this special property. We're also happy to design a custom experience to meet your education, recreation (and just plain fun) goals. Scroll down to see Pricing & Packages.
Student to Teacher/Parent Volunteer Bonus 
  1 free teacher/chaperone for every 10 students
Please note the following:
Minimum Group Size – 1 day on site: 40 paying guests, including students, teachers and volunteers. Overnight, generally 50+ but contact us.
Height, weight and capacity restrictions apply to some activities.
Zip Line – Open to all ages, 60 lbs minimum (you have to get across) to 275 lbs (you have to stop). Maximum 40 riders per day, due to extra sanitation protocols.
Challenge Ropes Course & Tower of Terror – 60″ Height minimum. Min. 60 lbs – 275 lbs max.

Pete van Genne
OUTDOOR EDUCATION TEACHER, PRINCETON SECONDARY SCHOOL
There is no better way to connect with your class and celebrate getting through a difficult year together than spending a day at RockRidge Canyon. Canoeing, hiking, and biking are some of our class' favourite ways to enjoy this stunning property.
PLENTY OF CARE AND FRESH AIR
RockRidge Canyon is committed to the health and safety of its guests and staff, and follows all BC Government protocols.
With 1500 acres of space there's lots of room for everyone!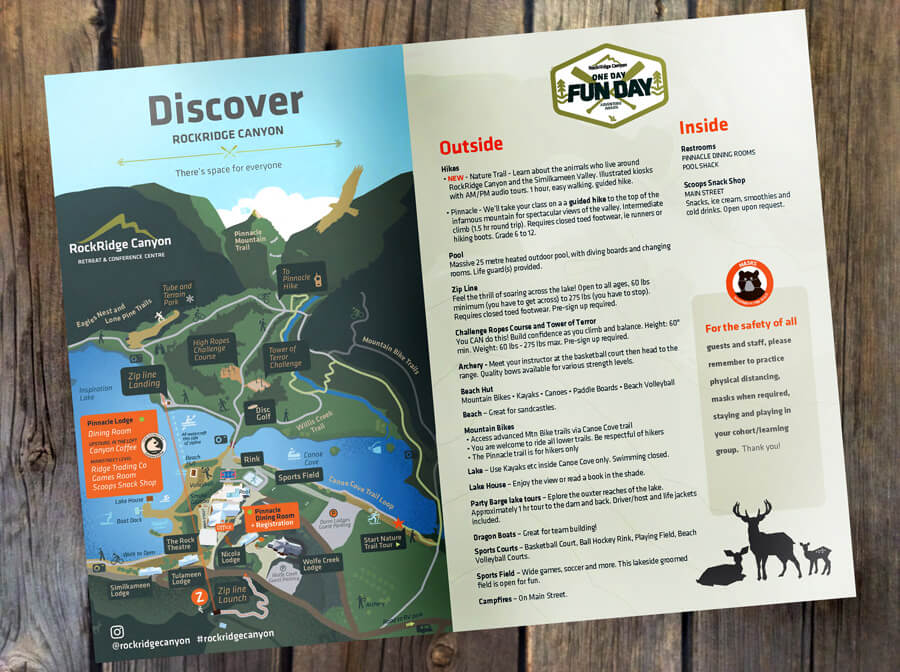 BOOKINGS & TEACHER TOURS
Call us soon as preferred dates fill up quickly.
We'll work out the details. Our experience makes it easy for you.
Your Fun Day guide is Della Saunders. She lives and works on site and will happily prepare a quote and find the best dates for your class. We look forward to hosting your class soon!
(250) 870-9030, xt. 4120

Parent Review
"Fabulous place for a family retreat, thank you, RockRidge Canyon! We had such a blessed time with our teen and college aged kids over the weekend. There was so much offered: Stand up paddle boards, canoeing, kayaking, three beach volleyball courts, full size outdoor basketball and hockey rink, archery, hiking, and mountain biking, to name a few. Since these are COVID-19 times, they implemented excellent social distancing protocols that kept us all safe and comfortable while enjoying ourselves (this included a temperature check upon arrival). Staff were friendly and accommodating. I highly recommend this facility, it was amazing!
~Karen C
Guest Comments
"The most fun-filled 5 days our family has ever had! Many thanks to staff and other families that attended. We'll be back."
"Our family had an incredible time at RockRidge Canyon, it was a definite highlight of our summer. We have already booked it for this upcoming summer."
"Young Life's Family Camp was the highlight of our summer. It exceeded our every expectation. The facilities, activities, fellowship, and food were all top notch. All of us had a great time and can't wait to return."
"We had a fantastic time at Family Camp. What a fun and friendly place to connect! The staff, food and accommodations were excellent. We were first time campers and this will certainly not be our last time here."