CREW
Christian Leadership Program at RockRidge Canyon
SERVE. GROW. GO!
A life lived with purpose
If you're wondering where you're headed next I'd like to invite you to join our CREW Leadership Program!
Each season we open an opportunity to young adults to serve, grow in their relationship with the Lord, and be a part of a radical community on this beautiful property. We believe the Lord has an amazing plan for your life and are confident this program will help propel forward!
The CREW leadership program has a discipleship focus, providing a place for like-minded individuals to adventure, seek growth, and encourage each other in their pursuit of God. This will be an opportunity to learn more about yourself and grow your faith. During your commitment we hope you will gain the tools and confidence to step into your future boldly. Together we will host guest groups – like schools and churches – which in turn help make summer camp accessible to Young Life teens and leaders. You will be serving in Guestkeeping, Site and Facilities, or Food Services. Your willingness to serve as CREW makes an impact far beyond the time you are here.
Let's do CREW!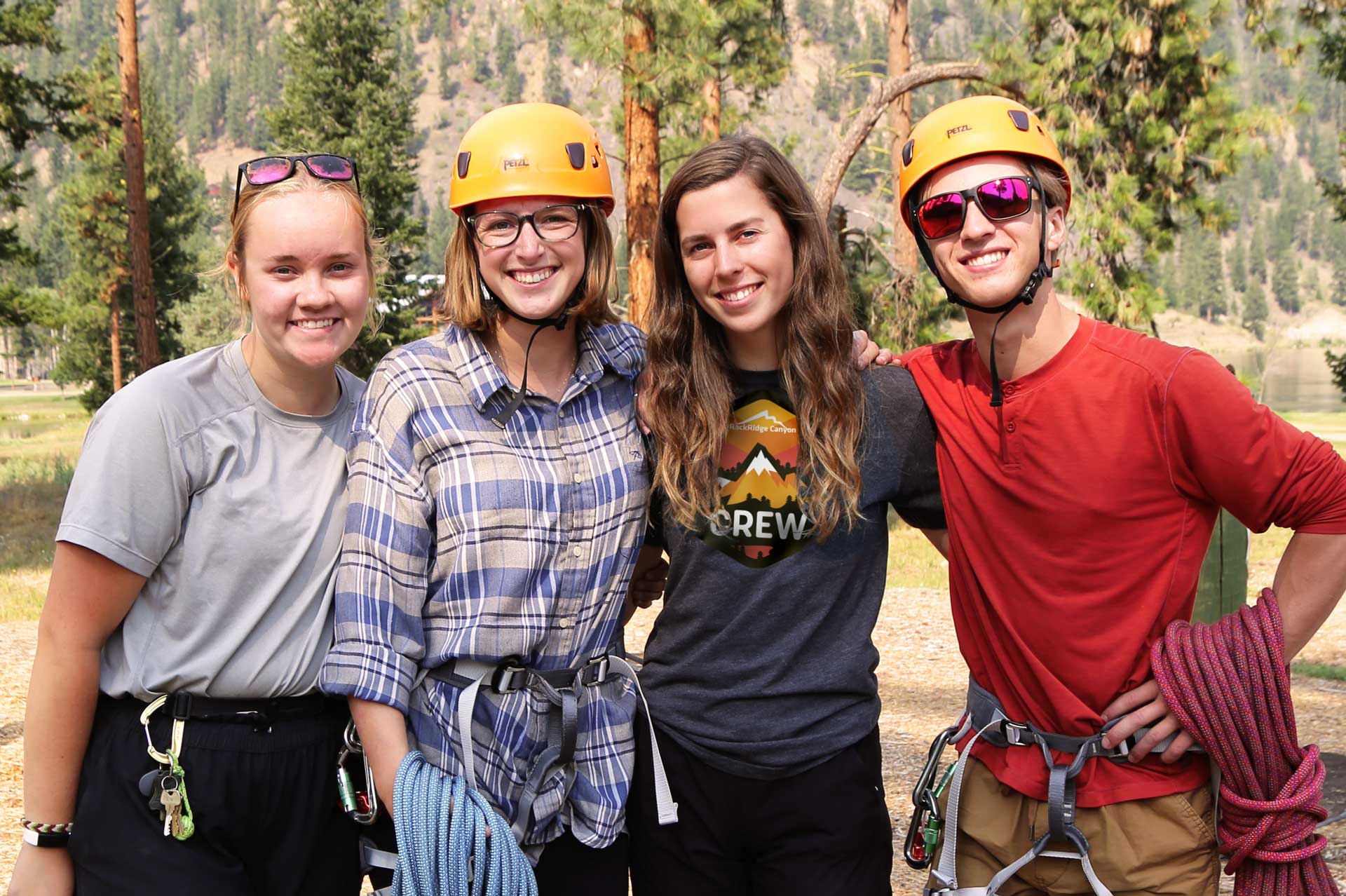 Leadership CREW
Together you form one community, sharing your skills, life and faith. Your service plays a vital role as together we host guests during RockRidge Canyon's rental season, an essential aspect of what makes the summer youth season possible. As Leadership CREW, you'll also be part of ministry service in our local community of Princeton BC.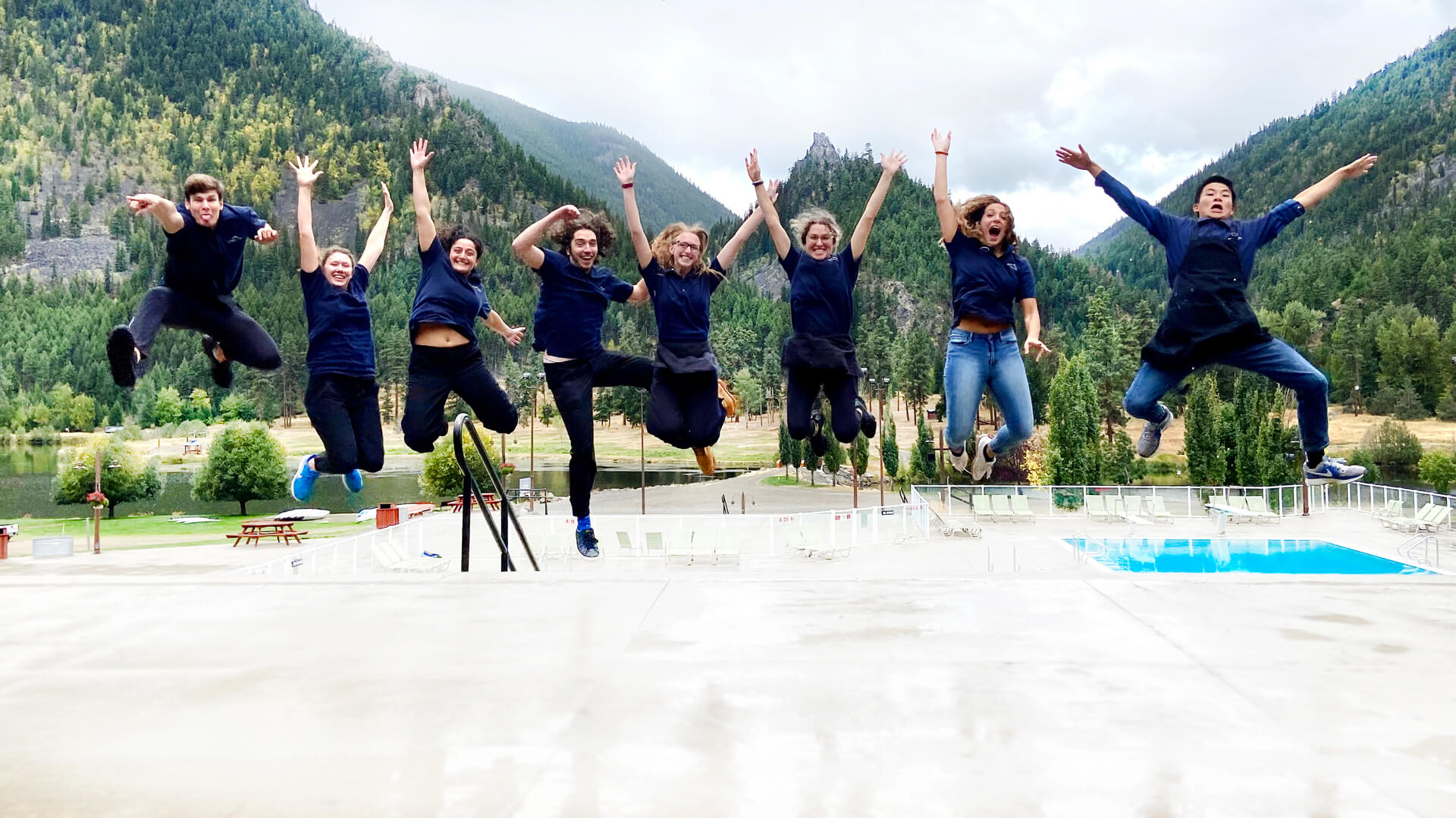 EARN & LEARN – Young Life's NO COST PROGRAM!
How does it work? We have a service and stay model, with a bonus. Through your service your room and board and most program costs are covered, plus you'll also receive a $1,500 "volunteer stipend" for each month served! Also, at the end of the program you will be given a certificate of completion for volunteer hours served. During your off time you can enjoy all that the RockRidge Canyon property has to offer, as well as off-site activities together.
Work is approximately 40 hours per week, which may include weekends.
FALL – September and October are busy months with guest groups then work hours are often reduced during November and December and more focus is then spent on discipleship and leadership training.
WINTER – Generally, during January and February more focus is spent on discipleship and leadership training with work hours ramping up towards spring.
Let's do it!
SERVE
Serve at a world class Young Life Property and Retreat and Conference Centre
Leadership CREW live and serve together, building real life vocational skills within the invigorating RockRidge Canyon community.
As a large, diverse property, RockRidge Canyon offers an amazing opportunity for young adults to gain a variety of work experiences that will provide vocational training in Food Services, Housekeeping & Guest Services and Site & Facilities.
Fall Session
Monday, September 4, 2023 – Monday, December 4, 2023
10 positions
Christmas Break: Dec 5 – December 27
January 8, 2024 – April 28, 2024
8 positions
Position Opportunities
Food Services – Vocational experience in Food Services (kitchen prep, bakery, dishwashing, and dining hall service) Food Safe certification is an asset.
Guest Keeping – Vocational experience in Housekeeping and Guest Services (hospitality, retail, outdoor recreation, challenge course, and meeting space setups/operations)
Site & Facilities – Vocational experience in Site & Facilities (maintenance, landscaping, snow removal). There may be an opportunity to assist in a variety of trades (electrical, plumbing, painting, and woodworking)
Skill Building
Leadership CREW has the opportunity to learn vocational skills in a Retreat and Conference setting and obtain certification in some roles. This is an incredible opportunity for those Christian young adults wanting first-hand experience to try out some of these vocations or for those interested in pursuing a career in these fields of service. RockRidge Canyon is piloting a secondary program that will offer apprenticeship and hours towards Red Seal certification in some roles.
Food Service experience (Kitchen, Bakery, Dining Hall)
Hospitality experience (Housekeeping and Hospitality)
Guest Services experience (Barista, Retail, Challenge Course)
Site & Facilities maintenance experience
Food Safe, Serving It Right certification in some roles
First Aid training in some roles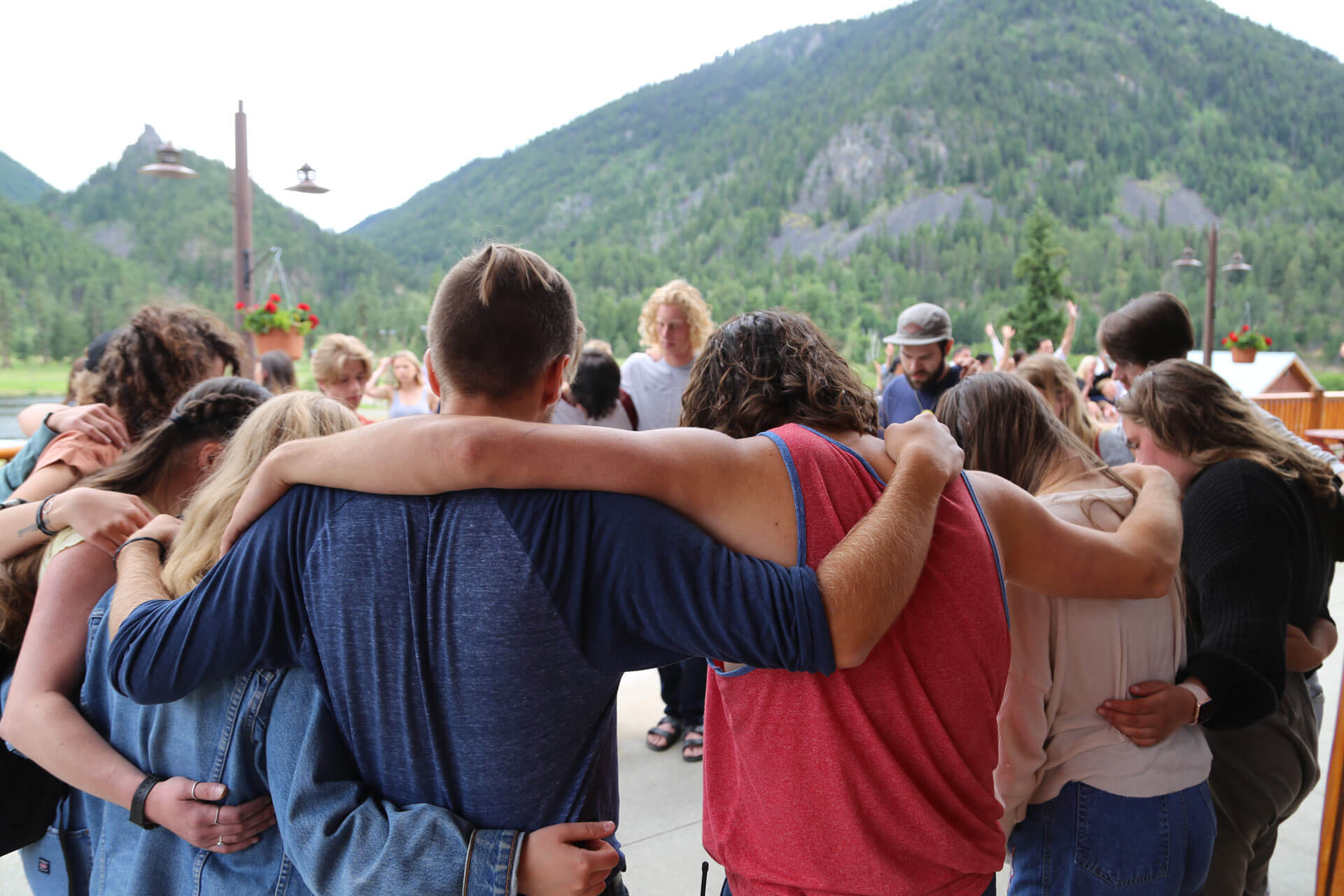 GROW
Grow in your faith personally and together in community
Leadership CREW have the opportunity to deepen discipleship by growing in their personal relationship with Jesus Christ and developing a strong faith community. Local ministry opportunities include youth ministry with middle school or high school students or community service with local Food Bank and Community kitchen.
Morning devotional and prayer with property staff
Weekly CREW Bible Study and Worship
Guest speakers on Spiritual and Leadership Development
Personal 1 on 1 check-ins with Leadership Coordinator
Local ministry opportunity with youth or community outreach
Local church attendance and involvement
PLAY
As a community you will have the opportunity to play together
Serving, growing and playing together
Eating meals together
Fun weekly events, on or off site
Exploring the property and local area together
Use of outdoor recreation equipment (lake, bikes, canoes, kayaks, snowshoes, ice rink, tube hill, etc)
Other activities may include swimming in our pool, wakeboarding in the early fall, the party barge, cross country skiing, snowboarding, hiking, just hanging out in a hammock, campfires. Inside you'll find lots of quiet lounges, a coffee shop, a huge games room, plus a fitness room on Main Street.
GO
Ready for the next season
Your time in the RockRidge community is designed to help you succeed now and in the seasons ahead. You'll be prepared to leave with a renewed purpose and confidence, knowing that we make plans, but God orders our steps when we walk in His will.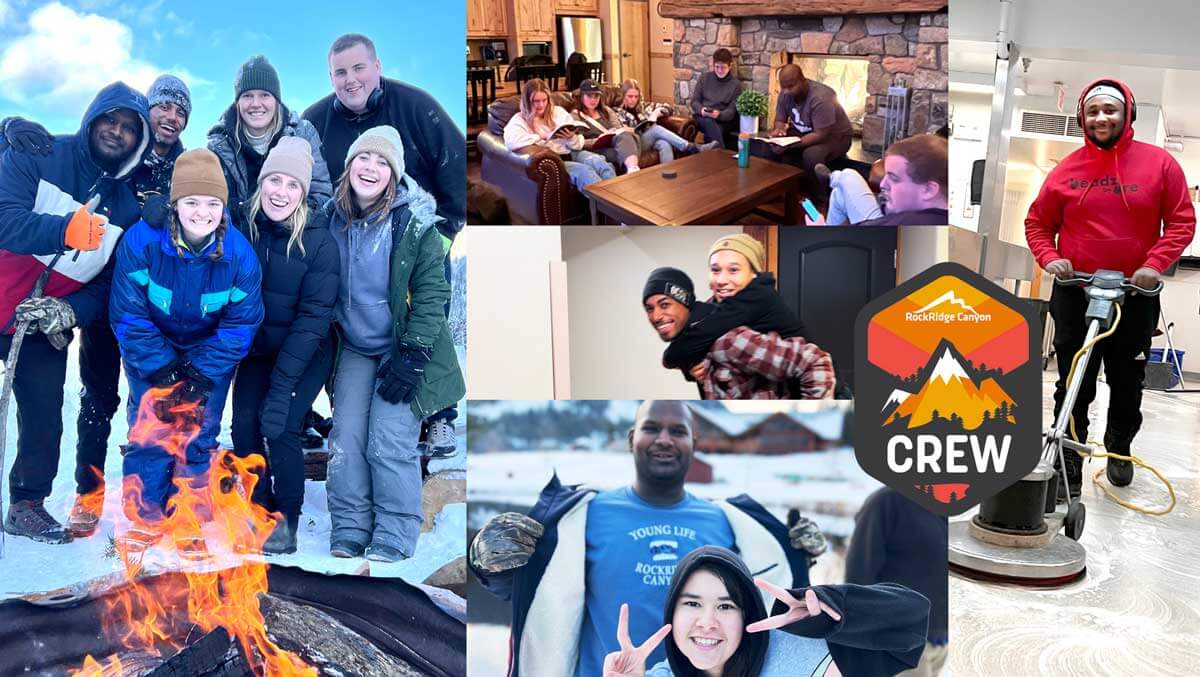 QUALIFICATIONS
Core Competency and Eligibility Requirements
High School Diploma or equivalent
18-26 years of age
Growing relationship with Christ
Community focused
Team player
Servant attitude
Flexible
MENTORSHIP
Leadership CREW will be mentored by our Property Staff and a Leadership Coordinator, who will be leading devotionals, bible study, fun activities and local ministry experience. RockRidge Canyon Property Staff are committed to the growth and development of young adults to nurture and develop skills that are foundational for career development and spiritual growth.
FUTURE OPPORTUNITIES
Leadership CREW will have the opportunity to apply for our Summer Intern Program (May – August) which provides leadership to our Young Life Summer Camping program.
Leadership CREW will also have the opportunity for future apprenticeship for vocational training in a variety of areas under specific Red Seal property staff.