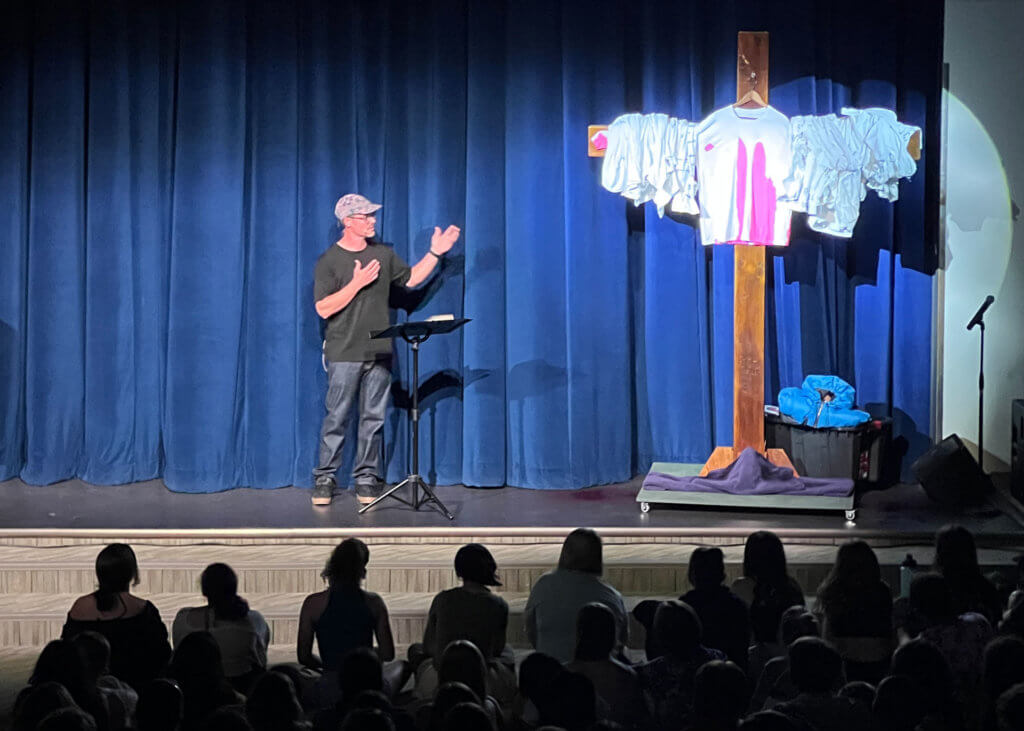 Through your gifts we are able to sustain an effective camping ministry.
Who we are and why
At RockRidge Canyon, teens get away from the pressures of everyday life, have fun with friends and their Young Life leaders, and hear the message of God's love in terms they can understand.
As a Young Life of Canada property, a unique aspect of our camping program is that teens attend with their leader, one they've come to know throughout the school year, and return home with that same leader. The bonds formed go beyond a week at camp – many last a lifetime. As Christians, our deepest hope is that they last an eternity!
What a summer!
Watching buses empty with loads of teens and leaders brought us massive smiles and tears of joy. Hearing the lake and pool come alive, seeing cabin leaders share quality time with their campers, feeling The Rock rumble with laughter and club songs week after week reminded us that Camp is precious. Yes, it's intense and wonderful. it takes a village to make it happen.
Grateful for a faithful community
The camping season started with preparation and prayer. When we needed help in the kitchen Young life staff, supporters and alumni stepped as Come and Serve volunteers. They came for a week or two or stayed longer than planned. Each volunteer was the encouragement our team needed to push forward. We are so appreciative of everyone's help. We hope you were encouraged too!
Help us finish this year strong!
There is so much to be thankful for over the 2023 fiscal year. From wonderful guest groups, an incredible Taste and See fundraiser this spring, staffing needs met and, of course, the ministry of Young Life camping this summer. That said, we've had some unforeseen facility setbacks, higher than projected costs, plus some regular bookings, including school groups, did not return this year. We're doing our best to run a tight ship but still face a significant budget shortfall. We trust, with your help we will reach the goal to eliminate this deficit by September 30th.
Will you help us today to start the new ministry year fresh and on a positive note financially?
If you are able to support the ministry at this time we would really appreciate your prayers and financial support of any amount by September 30th. Every gift, of any amount, counts.
We are motivated to continue operating prudently and to provide an excellent environment where teens experience a glimpse of God's vast unsurpassed love, where young leaders are inspired to serve and make that a rhythm in their lives, and to be a light to every guest who comes on property.
I'm so incredibly grateful for our friends and family who love and support Young Life and RockRidge Canyon and thank you for your continued prayers and support.
With gratitude,
Carolyn

Carolyn Mortensen
VP, Property Ministry, RockRidge Canyon
Taste & See – Operations fundraiser
Thank you for assisting with running camp! Donations can be done by cheque, credit card or online here.
If you have any questions we are happy to chat with you. Please give Mike a call at 604-218-1822 or email at mmanning@younglife.ca
Pre-Authorized Monthly Donation
One time gifts can be given by cheque, payable to Young Life of Canada, memo, RockRidge Canyon.
Pre-Authorized Monthly Donations (PAMD) can be set up for automated giving for any category of donation.
A PAMD is the most efficient and cost effective way to make regular donations to Young Life of Canada. It's worry free and… it saves money in administration costs!
One time Wish List gifts
One time Wish List gifts
While our key focus has been maintaining operations, we are still looking to the future when we can host Young Life teens again. If your heart is to support specific projects please check out the WISH LIST link. When donating please be sure to type in what you would like the gift to be directed towards, like "Rope Swing" in the message field
Canadian and US dollars accepted
Gifts in Canadian dollars will be issued Canadian receipts, and US dollar gifts will be issued US receipts.  If you are donating in U.S. funds, please use the US Donations Page. You will be taken to a page that prompts you to enter your personal and donation information, as well as the gift designation.
Thank you!
RockRidge Canyon is owned/operated by Young Life of Canada, which is a Canadian Registered Charity.
Receipts
All donations are tax deductible and tax receipts will be issued. (Online donations are immediately receipted by email, while paper tax receipts are issued for other donation methods).
Thank you for supporting the ministry of RockRidge Canyon!
Got questions? Just call!
Feel free to call our head office. You can reach us directly at
National Service Centre
Young Life of Canada
120, 9440-202nd St
Langley, BC
V1M 4A6

(604) 881-6023, x 103
donate@younglife.ca
If you have any issues with the secure online donation portal, please contact our YL National office directly at 604-881-6023.
Young Life National Service Centre can also help with donations over the phone as well. Thanks!
Use of donations: Spending of funds is confined to Young Life Board approved programs and purchases. Each gift designated toward an approved program will be used as designated with the understanding that when any given need has been met, the remaining designated gifts may be used where needed most.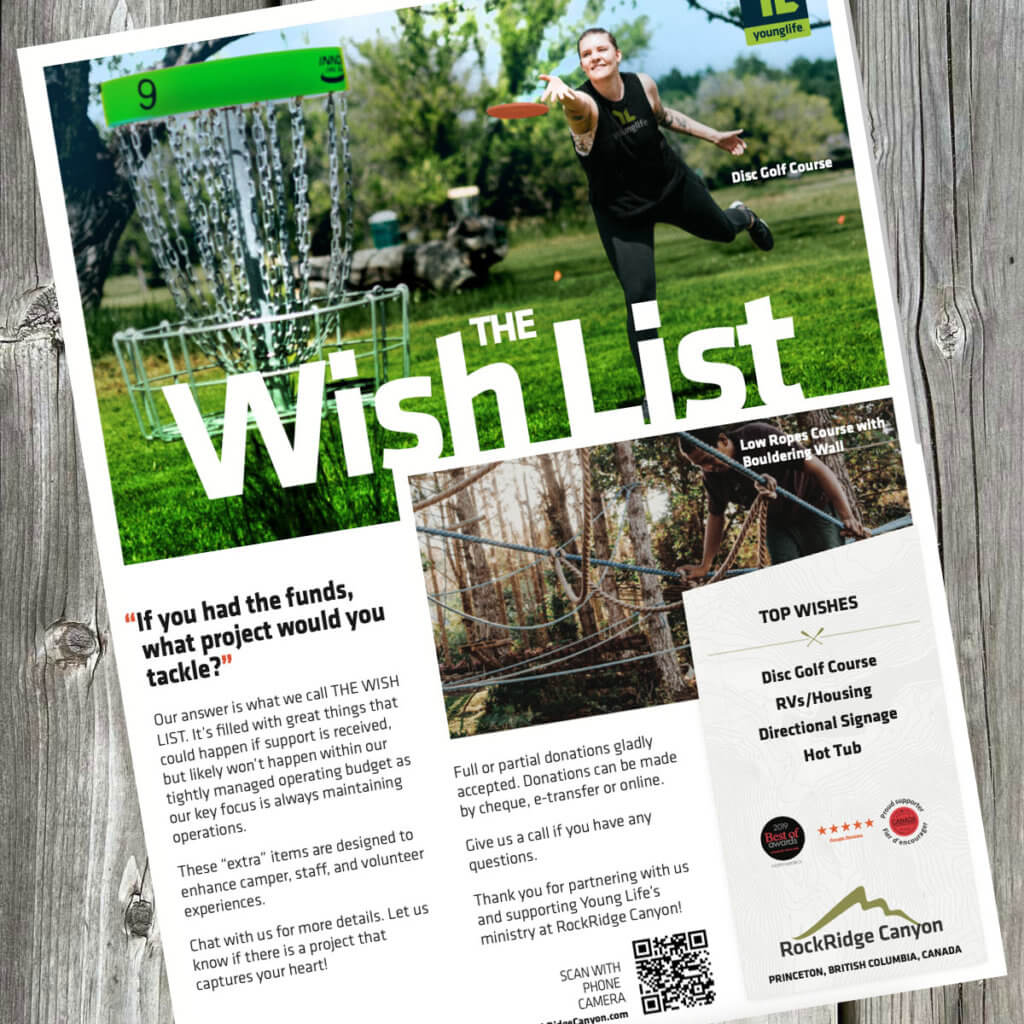 Because of what Young Life meant to me as a student, I want to include Young Life in my financial planning.

North Shore, Vancouver, BC
If you would like to donate by cheque, please write "RockRidge Canyon" on the memo line and mail to:
Young Life Canada
120, 9440-202nd St.,
Langley, BC V1M 4A6
Frequently Asked Financial Questions
Creative Giving
Creative giving helps Young Life care for teenagers. A properly thought-out gift strategy can support Young Life, while reducing present taxes and potentially minimizing future taxes on one's estate. There are a number of ways to take advantage of the many creative methods of charitable gifting allowed by our federal tax system. In the Young Life community, we have a number of trained professionals who can assist in developing a well thought-out estate plan. These professionals are faithful friends who themselves have a history of supporting the Young Life ministry and want to make their skills available to our Young Life community. In doing so Young Life hopes to see its ministry supported not only today but in the years to come through creative planned giving.
Creative options for giving to Young Life
Young Life in your will.
Giving a Life Insurance Policy to Young Life and receiving a tax receipt for the full cash surrender value of the policy, or making Young Life the beneficiary of a policy.
Purchasing a New Life Insurance Policy with Young Life as the beneficiary where you make the donation to Young Life to cover the premium in return for a tax receipt.
Gifting publicly traded shares such as Trust Units, Mutual Funds or Stock to Young Life and thereby avoiding ANY capital gains while still receiving a tax receipt for the full fair market value of the equity. Young Life then sells the equity at market value with a reduced brokerage fee.
Creating a Charitable Annuity Trust where the interest flows tax-free to Young Life and may be utilized immediately by the ministry.
By your financial planning, you can minimize your taxes and help us care for kids and thereby impact their lives for a lifetime! Want to know more? Please contact your own financial planner or Mike Manning for more details concerning creative giving options –mmanning@younglife.ca.
Planned Giving
What is planned giving?
Simply put, planned giving is developing a creative plan of giving through a variety of means. These options include cash, securities (shares of a company, Trust Units or Mutual funds), wills, property, annuities, insurance and others. Sometimes the gifts are of immediate benefit to Young Life while at other times the benefits are deferred for a number of years. In either case, both the donor and Young Life benefit from this thoughtful arrangement of one's financial affairs. This method of giving is not complicated but does require planning. Through planned giving, you will help to ensure that the ministry of Young Life will continue for many years to come.
What people are saying:
My wife and I would like to help Young Life now by our present gifts and also ensure the ministry to kids continues after our lifetime. That is why we are putting Young Life in our will.
We originally took out this Insurance policy to cover our house mortgage but now that it is paid off, we don't need the insurance. How wonderful that we can give it to Young Life and get a tax receipt for the cash surrender value! That will help us tremendously at tax time.
Because of what Young Life meant to me as a student, I want to include Young Life in my financial planning.

North Shore, Vancouver, BC
I am thrilled to know that I can now make a donation of appreciated securities to Young Life without incurring any capital gains tax on that donation and still receive a tax receipt for the full present day value of the stock
Canada & USA
Young Life is a member of the Canadian Council of Christian Charities. All donations are tax deductible. Young Life of Canada is a registered charity in the United States and is therefore able to issue a US tax receipt for our American supporters. This page is designed to provide general information about planned giving. If legal advice or other expert assistance is required, you should seek the services of a competent professional.
We can help you get started
Consider being a part of the growing number of Young Life supporters who are planning their giving in a thoughtful and creative manner. Please call your own financial planner, local Young Life office or Mike Manning – mmanning@younglife.ca.